Nazi Hipsters Will Be The First Up Against The Wall
Better shave those beards off lads, and get a sensible haircut while you're at the bespoke barber.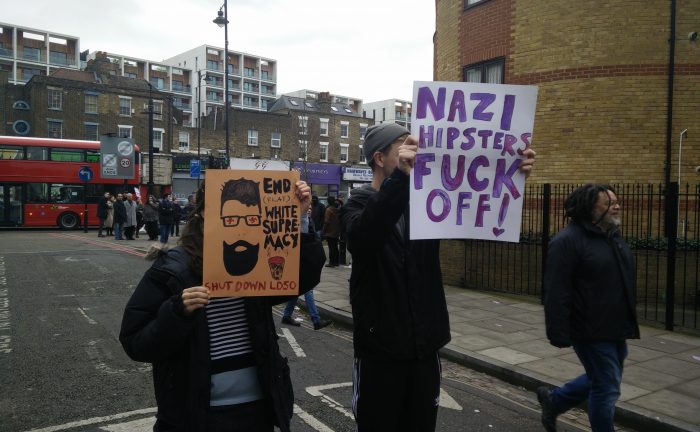 From the Hackney Post
LD50 GALLERY AND THE RISE OF FAR-RIGHT ART
"Dalston's LD50 Gallery has now closed, following pressure from anti-fascist protesters. On Saturday 25th February, hundreds of people marched outside the gallery on Tottenham Road, with the campaign group Shutdown LD50 alleging that the venue had been "function[ing] as an organising space for racists and as a media platform to infiltrate the London art world." The protest came in response to a conference hosted by the gallery featuring speakers such as the anti-feminist journalist Iben Thranholm, 'neo-reactionary' philosopher Nick Land, and anti-immigration activist Peter Brimelow.
In recent months, seemingly inspired by the American presidential election, the gallery has been pushing more nakedly political 'art'. A cardboard cut-out of Donald Trump was on display in a window around the time of the vote in November, and the gallery's social media accounts have been putting out increasingly extreme material, including 'Pepe' memes and photographs of mass-murderers Anders Behring Breivik and James Eagan Holmes.
Also featured are digital artworks depicting medieval knights and space travel – all hallmarks of the aesthetic of the so-called 'alt-right'. Although often left unlabelled, these images push a clear ideology – one centred on the supposed ethnic and cultural supremacy of the 'civilised' white man. It's hardly surprising that diverse inner London's has bristled at this."
LD50 Gallery and the rise of far-right art