Two Oppressed Minorities Come Together To Fight Prejudice. Intersectionality Rules. OK?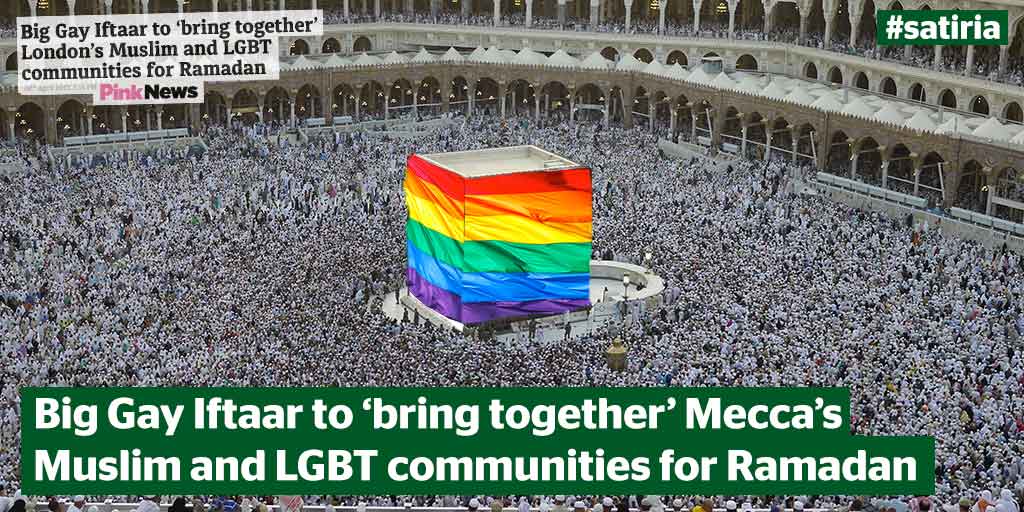 Big Gay Iftaar to 'bring together' London's Muslim and LGBT communities for Ramadan
One of the new events is A Big Gay Iftaar, which Pride in London says will "bring together the Muslim and LGBT+ communities to open a fast together during Ramadan".
The event will be held in St Andrew's Church, Southwark, on Saturday June 24.
A release explained: "It's time to bring together the Muslim and LGBT+ communities to do something very important: open a fast together during Ramadan, otherwise known as 'iftaar'.
"The intention is to get back to basics and talk to one another, learn about each others' faiths, cultures and sexualities and spread some love that is so sorely needed in the world.
"Dates and food will be provided at Maghrib (sunset) and it promises to be a thought provoking and community building evening.
The event comes after Mayor of London Sadiq Khan, who is both a Muslim and a strong LGBT ally, made history by leading the Pride parade last year.
Speaking about the festival, Mr Khan said: "London's LGBT+ community is one of the largest in the world, and I was proud to lead last year's Pride march and to be Mayor of a city that doesn't just tolerate diversity, but truly embraces and celebrates it.
"This year's Pride in London programme reflects the full spectrum of the capital's LGBT+ community and I urge all Londoners to immerse themselves in the festivities, proudly wave the rainbow flag and make this year's Pride in London the biggest and most colourful yet."
An LGBT iftaar took place last year after the Orlando massacre.
http://www.pinknews.co.uk/2017/04/28/big-gay-iftaar-to-bring-together-londons-muslim-and-lgbt-communities-for-ramadan/